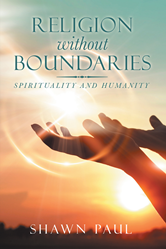 "I wrote this book to teach people who have become disenchanted with their religion that they can still believe in something," Paul said. "I hope to enlighten the public about limitations of traditional organized religions and its confinement to traditions, customs and writings of ancient times."

ORLANDO, Fla. (PRWEB)
July 25, 2022
In "Religion Without Boundaries," author Shawn Paul provides an opinion-based book and shares his belief that religious people may be held back due to strict rules enforced by church that have not been adapted or updated to fit into modern society.
Paul decided to write the book because he wondered how to live a blissful life, and his religion did not provide him with these answers. He teaches readers that, while spirituality and religion are not the same, religious people can also be spiritual.
Throughout the book, Paul teaches that spirituality emphasizes the importance of patience, harmony, compassion and concern for others. He translates this need for compassion into his desire to establish peace, protect the environment and fight hunger and poverty. Paul believes that participating in these humanitarian acts enriches human life.
"I wrote this book to teach people who have become disenchanted with their religion that they can still believe in something," Paul said. "I hope to enlighten the public about limitations of traditional organized religions and its confinement to traditions, customs and writings of ancient times."
"Religion Without Boundaries: Spirituality and Humanity"

By Shawn Paul

ISBN: 978-1-6657-1887-5 (softcover); 978-1-6657-1888-2 (e-book)

Available through Archway Publishing, Barnes & Noble and Amazon
About the author

Shawn Paul has worked for ten years in his scientific profession and obtained a Master of Science in Chemistry from Panjab University, in Chandigarh, India, a master's in Fuel Science from Pennsylvania State University, State College, Penn and a master's in Clinical Psychology from the University of Central Florida, Orange County, Fla. He is passionate about the human mind, behavior and how the brain works. He has worked for over 30 years as a psychotherapist, including 25 years spent in private practice. Paul is married with two adult children and has a passion for reading, writing and traveling. He regularly contributes to the causes of social justice, environmental conservation and assisting impoverished children. For more information, please visit http://www.archwaypublishing.com/en/bookstore/bookdetails/829093-religion-without-boundaries.
General Inquiries, Review Copies & Interview Requests:

LAVIDGE – Phoenix

Haylee Elmore

helmore@lavidge.com
Share article on social media or email: